Nutrition – Herbs – Lifestyle – Supplements – Education
Call or Email our Virtual Nutritionist to Ask About Health Consults and Other Services
What options do we have regarding a "schedule" button that stays on the page as the user scrolls? For example, a lower right hand corner pop up (lower banner on mobile) with a button for scheduling.
Also, is there a way to add a "call" button that when pressed, would call me?
There are many ways to live a healthy lifestyle. The difficult part is uncovering the lifestyles YOU enjoy. Instead of copying someone else's lifestyle and struggling through the resistance, you could design your own.
I'm your nutritionist and together, we'll find lifestyle changes that support your health.
How do we do this?
Individual Nutrition Assessment

Constitution
Condition
Context
Commitment Level

Health & Nutrition Coaching

Nutrition Knowledge
Understanding your Health Condition(s)
Motivation Building
Identifying Priorities

Exploring Nutrition & Lifestyle Options

Babystep Goals
Skill Building
Self-Reflection
Mistakes & Solutions
The learning process takes effort. But with knowledge, mindfulness, and a bit of trial and error, you can achieve your nutrition and health goals.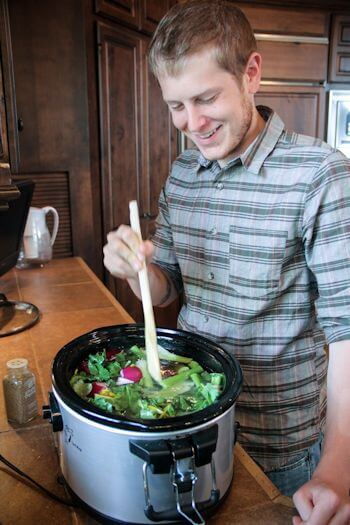 Therapeutic Concerns
At Lifestyles in Nutrition, our virtual nutritionist can work with you on specific health concerns to form a personalized nutrition plan. This process can complement your medical provider's program, and with your permission, our consultant can work closely with your doctor to establish a proactive plan.
Our Colorado holistic nutritionist, Matthew Koontz, primarily focuses on the following:
Cardiovascular/heart health
Blood sugar management
Gastrointestinal issues
Men's health

Mental health
Hormone balance
Prostate
Fertility
ADD/ADHD in boys

Weight loss and muscle building
Sleep and energy optimization
Chronic fatigue/fibromyalgia
Mold sensitivity (CIRS)
Mental health and mood balance
Cancer support
Western botanical/herbal medicine
If you're interested in scheduling a free 10 minute consultation, call Lifestyles in Nutrition at (303) 816-3713 or schedule a call on through our website.
Nutrition on Demand!
We're introducing quick and easy nutrition services! If you have a question about nutrition, supplement choices, or herbal remedies, you can now call our Colorado holistic nutritionist for instant answers. Whether you're curious about general health topics or any of the specialties listed above, Matthew Koontz can help. Additional research time may be needed, and you will never be billed for research. However, that time will be limited.
Nutrition on Demand is excellent for those looking to make healthy changes but isn't interested in signing up for a full intake and health plan. The flexibility of this program works best for individuals who are making changes in their lifestyle themselves and aren't in need of regular guidance.
Call Nutrition on Demand today at (303) 816-3713 for answers to your health, nutrition, and herbalism questions and concerns.
These Q&A sessions are billed at $1.50/minute, and payments are requested by credit card or transfers via PayPal or Venmo at the time of service. Topics that are too complex, specialized, or require medical cooperation may not be fully explored due to the nutritionist's scope of practice limitations. If more research is necessary for an adequate answer, you may choose to try one-on-one consulting. In this case, your Nutrition on Demand charge will be deducted from your consulting cost.
Nutrition and Herbal Sessions
Health consults from our virtual nutritionist begin with an intake sessions that last about 1 ½ hours and follow-up sessions are typically 1 hour long, but can also be cut down to 30 minutes upon request. You can schedule sessions as often as you need to improve, but they are typically held every week.
Those looking for personalized herbal remedies will also go through the consulting process. Herbal formulas are designed in the context of the client's overall health and current medication plan. Botanical medicine, although supportive and gentle, can interact with medications and health conditions when used therapeutically. For those looking to an herbal protocol with no nutrition focus, the intake should only take about 1 hour.
When signing up for a personalized nutrition plan, look through our add-ons for diet analysis, meal plans, food demos, and grocery store trips for even more nutritional assistance. All supplies will be provided and are already included in the price. If affordability is your concern, you can also look into signing up for our Share the Health program, which ranges from $15-$59 an hour.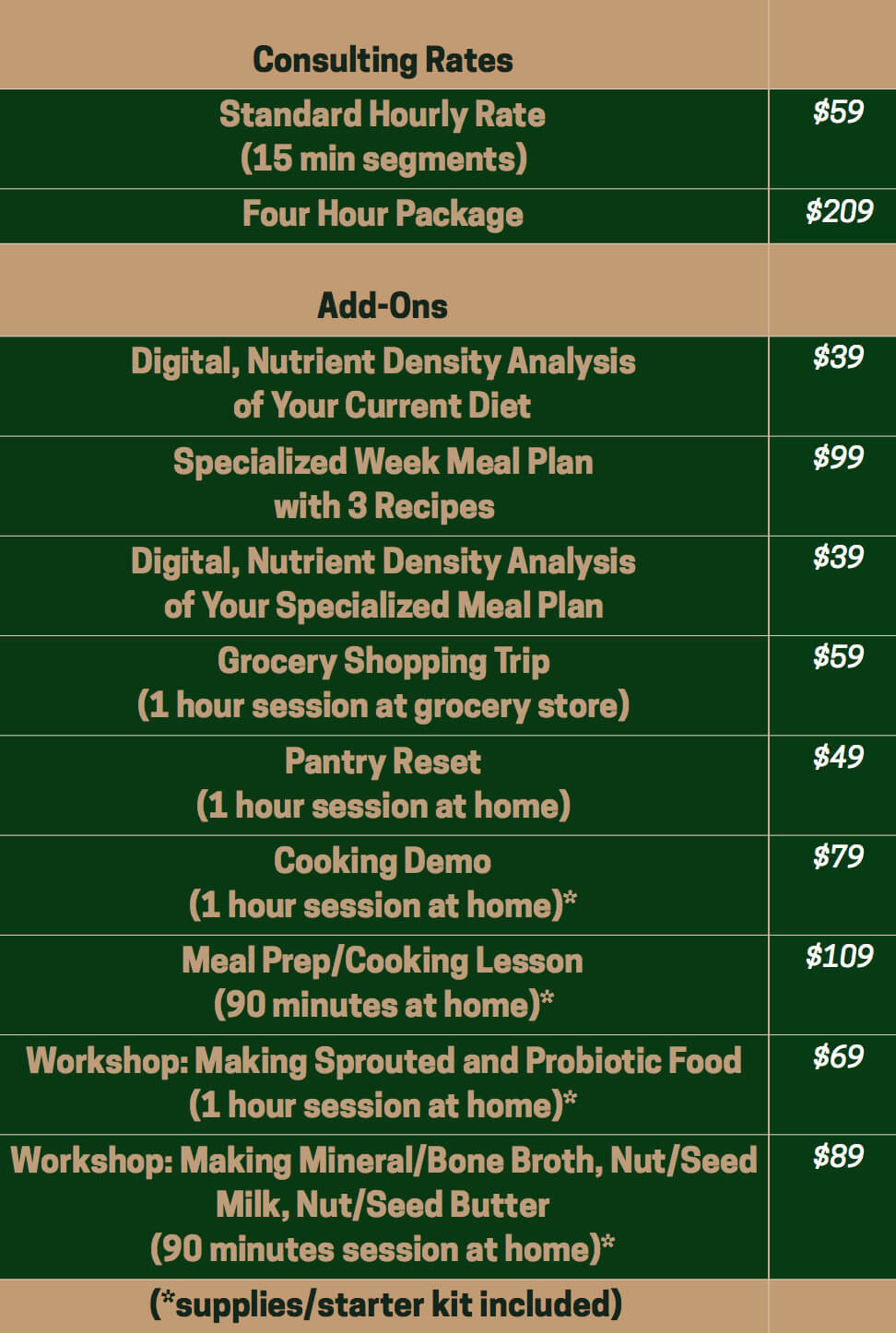 Package Deals
Each package deal is designed to address a common client health path and can be excellent investments in your health. Check them out below and see if there's a package that fits your needs.
Principle Nutrition ($339) –

For those committed to making new changes for their health

. This is the standard starting package to kickstart your health advancement! Four follow-up sessions will allow for three weeks of health goals and a final session to re-evaluate your health concerns and gauge your improvements!

You Get:
1 Intake (~90 min.)
3 Follow-ups (~60 min. each)
Weekly Goals
Supplement/Herbal Suggestion
Accompanying Recipes
Choice of Grocery Shopping Trip OR Pantry Reset with Kitchen Staples list

Topics Include: any of the specialties listed above, Eating for Health basics, nutritional heroes/bandits, evaluating foods for their nutritional quality, client's unique health barriers, emotional level of eating, most effective changes for client, easiest initial changes for client, and more.

Diet Fortification ($399) –

For those who need to see the numerical data about their diet

. Curious how your diet is supporting you on a nutrient level? This package is fantastic for those who need to see the numbers showing the nutritional difference between their diet and a more supportive diet. Additionally, the meal plan helps guide you through a week of healthy eating and comes with recipes that help with healthy cooking.

You Get:
1 Intake (~90 min.)
3 Follow-ups (~60 min. each)
Weekly Goals
Supplement/Herbal Suggestion
Nutrient Density Analysis of your Current Diet
1 Week Meal Plan with Nutrient Density Analysis
3 Recipes

Topics Include: foundational nutrients, nutrient deficiencies, nutrient imbalances, macronutrient ratio plan, supportive diet examples, healthy cooking, supplements through the life cycles, and more

Herbal Plan ($199+) –

For those who exclusively want an herbal consultation

. If you're looking for an herbal consult only, this would be ideal for you. Whether you want to address an acute health crisis (fever, cough, colds/flu, sore throat, infections) or more long-term issues (insomnia, pain, digestion issues, mood imbalances), we can find an herbal formula to address the issue or support complementary care. Three follow-ups will allow for a dispensing session and two follow-ups. During the follow-ups, we re-evaluate and tweak the formula and talk about a protocol to use in the future if the issue is reoccurring or a protocol to use long-term to prevent or address the issue on a deeper level. The herbs themselves are not included in the price because of the variability of herbal plans. Assume $20 minimum for herbs and $45 average.

You Get:
1 Intake (~60 min.)
1 Protocol Dispensing Follow-Up
2 Additional Follow-ups
Condition Education
Personal Herbal Formulation
Supplement Suggestions
Plan for Future Prevention/Reoccurrence

Topics Include: cold/flu and symptoms, lung conditions, intestinal issues, skin disturbances, poor digestion and symptoms, insomnia, anxiety/depression, chronic/acute pain, liver support, kidney support, immune system support, wounds, cardiovascular system, and more.
Speaking/Nutrition Classes
Additionally, talks or classes on Holistic Health, Nutrition, and Home Remedies are available by request. My expertise lies in cardiovascular disease, diabetes, gastrointestinal conditions, and men's health topics. Other topics include all the conditions under the Therapeutic Plan as well as estrogen dominance/hormone imbalance, liver dysfunction, sleep issues, pain, stress, and many others. Pricing is negotiable so call (303)816-3713 or email MKoontz@LifestylesInNutrition.com to provide more information.

Nutrition Therapy Specialties
Blood Sugar Balance & Diabetes
Heart Health & Cholesterol
Digestive Tract Issues
Preventative Health
Supplements & Herbal Medicine
FAQ
It's common for people to think their nutritionist will tell them they have to "eat this way" and "stop eating those foods." While many professionals may give this advice, I know it doesn't support long-lasting results.
When we work together, my job as a nutritionist is to inform and problem-solve with you. Then, we come up with possible changes together. In the end, you decide on a change you'd like to try.
The change can be as simple as eating a serving of fresh fruit five days a week or as complex as switching to a Mediterranean diet. When we meet again, we'll review your experience with the nutrition change and consider your next steps.
Luckily, there are many roads to your health goal. If you aren't interested or motivated by a specific strategy, we'll develop something new. Ultimately, it's all about sustainable changes for lifelong health, so there's no need to stick with methods that don't work.
It's typical to meet a nutritionist weekly for 55 minutes for the first 4-6 weeks. Everyone has lots to learn when they first talk with a nutrition expert, and many are trying to find the motivation to change their diet pattern. Regular, weekly meetings have proven to help jumpstart behavior changes. However, it's absolutely up to you if you'd like to meet more often or less.
Lifestyles in Nutrition works within network for a handful of insurance companies. If you'd like to use your insurance, contact me before scheduling, and we'll determine your coverage.
My training included nutrition for all medical conditions impacted by diet. Food allergies, kidney & liver health, lifecycle nutrition, weight management, cancer (prevention and complementary care), inflammatory conditions including chronic inflammatory response syndrome, men's health, etc. My specialities lie in cardiovascular diseases, gastrointestinal tract issues, and conditions related to blood sugar (diabetes).
Lifestyles in Nutrition is an outpatient clinic and does not provide medical treatments. However, I can collaborate with your team if you're receiving medical treatment from another facility and are interested in additional nutrition consulting or a complimentary care plan.
If you're concerned about a condition not listed, call Lifestyles in Nutrition. You and I can chat about what we can do to improve your nutrition and health.
I can see individuals, couples, families, or other groups. It's often helpful to bring family members and get them on the same page. Having family support helps immensely.
I don't organize group nutrition education. However, I can lead your group through nutrition education or facilitate nutrition-related support groups. Guest speaking is another option. Contact me if you'd like more information.